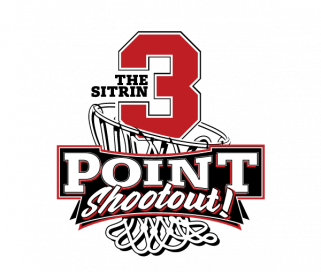 Saturday, May 02, 2020 at 9:00am | Utica College Dome
We are excited to announce that Sitrin is launching a new event! The Sitrin Three-Point Shootout - a 60-second competition to determine the area's best three-point shooter - will take place on Saturday, May 2.
Join us on the court at the Todd & Jen Hutton Sports and Recreation Center at Utica College (Dome) between 9:00 AM and 12:00 PM. This event is open to the entire community for all ages & abilities. Doors open at 8:30 AM - first come, first up!
Play as an individual or part of a team. Individual divisions will be grouped by age and gender: junior varsity (up to 14), varsity (15-18), and NBA (19+), as well as divisions for wheelchair users and celebrities. 
Teams, consisting of five players, must be registered by one team captain. Team divisions will be categorized by school, first responder organization, business, and an open division (friends & family team).
REGISTRATION
Pre-register online or by mail, or register in-person on the day of the event. Entry fees are $5/player for individual divisions and $25/team for team divisions. To register by mail, download form and mail completed form and check to Sitrin Health Care Center c/o Marc DePerno 2050 Tilden Avenue, New Hartford, NY 13413. Make check payable to: Sitrin Health Care Center.
THE RULES
1. Each participant will be given 60-seconds to shoot basketballs from the three-point line, behind the top of the key.
2. A shooter must have both feet (or both rear wheelchair wheels) behind the three-point line when releasing the ball.
3. Each participant is allowed five practice shots before the clock starts.
4. In the event of a tie, the person who successfully made the most of their final five attempts, will be declared the winner. If a tie still exists, scoring will proceed backward for each preceding five attempts until the tie is broken. Should a tie still exist, the award will be shared amongst the participants.
5. There are no restrictions on the number of times individuals or teams can register.
6. Have fun! Prizes will be awarded to the top individuals and teams in each division, as well as $100 gift card for the highest overall scorer in the tournament!
All proceeds will benefit the Sitrin STARS Program, providing training, advocacy, funding, and support for adaptive athletes.