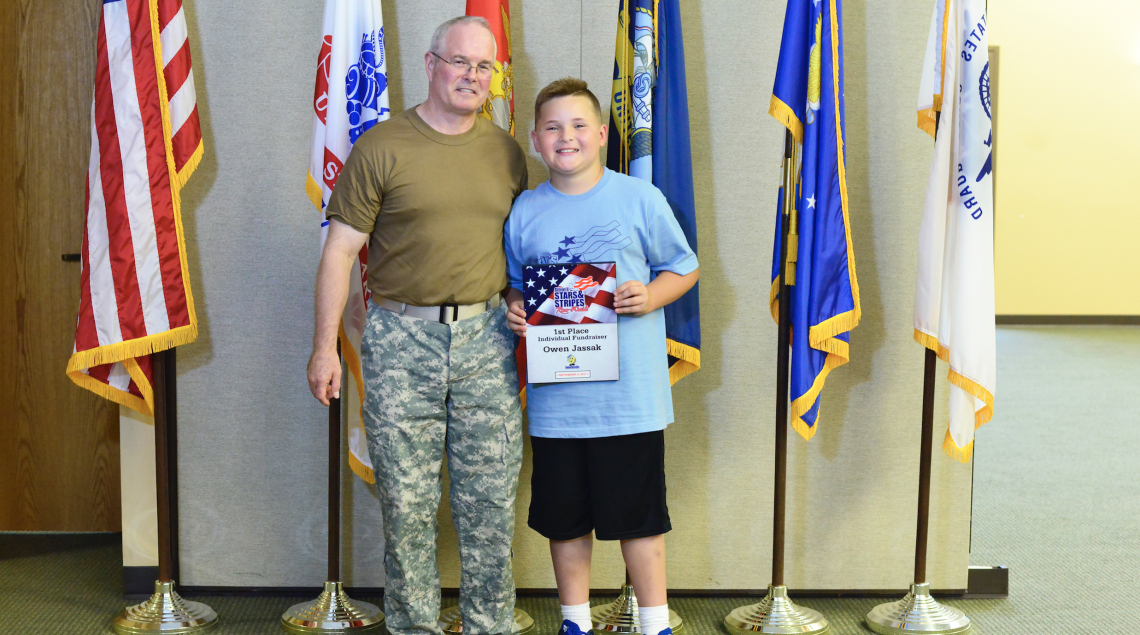 Each year, the Sitrin Health Care Center kicks off its Stars & Stripes Run~Walk with an awards ceremony to recognize teams from the previous year's event. This year, awards and recognitions were presented to sponsors, top five corporate teams, veteran organizations, family and friend teams, and individuals who have raised significant funds.
As the primary fundraiser for Sitrin's Military Rehabilitation Program, the Run~Walk has raised nearly $750,000 during the last seven years.
Taking first place as an individual fundraiser was 10-year-old, Owen Jassak, who has been raising funds for Sitrin for the past six years. Each year, he helps coordinate a flag fundraiser and chicken barbecue during New York Mills' annual Bell Festival. Owen has raised more than $35,000 for the program to date!
The kickoff was held this past Wednesday, June 27, in Sitrin's Community Center. More than 120 participants were in attendance.
During the celebration, Retired Master Sergeant Dan Magdziuk performed Dance/Movement Therapy live for kickoff attendees. Before his first dance, Dan discussed some of the strife he faced while still enrolled in the military, including bad treatment and misjudgments he received from military peers as a result of some mental struggles he was facing. This difficulty was the spotlight of his first dance, performed to Queen's "Nobody Wants to Live Forever." Dan's second dance represented finding himself and learning to balance struggles in his life in a healthy manner.
The evening also featured a video presentation, created in partnership with Leadership Mohawk Valley's project team #healourheroes. Introducing the video was LMV team member, Clare Thiem, who spoke about working with Sitrin to create the unique project. In the video, veteran Chris Freund shared his personal story of life during and after the military, including challenges with reentry into civilian life, struggling to connect with his family, difficulty maintaining a career, and issues stemming from post-traumatic stress disorder (PTSD). He also spoke about how he came to be associated with Sitrin, and how the program's customized therapies have helped him heal to become a better, stronger person.