Volunteer
Those who can, do. Those who can do more, volunteer.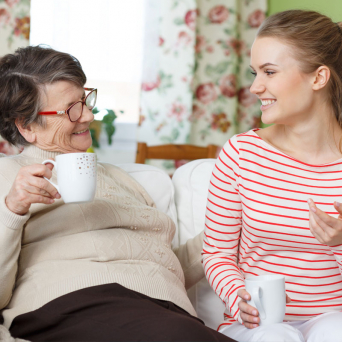 When you volunteer at Sitrin, you can make a real difference in the lives of others. Volunteers have always played an important role in the work we do, providing patients and residents with caring assistance and personal attention, while giving themselves an excellent opportunity to:
Build teamwork and leadership skills
Gain valuable experience
Meet fascinating people and create a network
Enhance professional qualifications
Explore career options
Share the unique satisfaction of helping others
Have a great time!
As a Sitrin volunteer, you can choose the kind of work you wish to do, and set a schedule that is convenient for you. Whether you join us for an hour a month or several hours a day, volunteering at Sitrin may prove to be one of the most rewarding experiences of your life.
Apply Now or  Download Application
---
Opportunities
Activities / Recreational Therapy
Volunteers help with a variety of programs, including:
Bingo/games
Coffee club/happy hour
Reading/visiting
Ceramics/crafts
Outings for picnics, shopping, bowling, etc.
… as well as assist with office work.
Volunteers "adopt" a resident and arrange special individualized activities, such as:
Reading
Singing
Walks
Watching TV
Socializing
Gan Kavod (specialized residential care for adults with intellectual disabilities and medically complex conditions)
Volunteers are needed in each of Sitrin's Gan Kavod homes to spend time with residents, particularly those who have do not have family or friends in the area and who very much look forward to these visits. Activities may include reading, playing games, or sharing a hobby.
Therapeutic Programs
Volunteers assist with recreational programs, including:
Horticulture and gardening
Music and movement
Trivia and games
Reminiscence
Cooking and baking groups
Intergenerational program
Adaptive sports
Recreational swimming
Ceramics/crafts
Art programs
Senior exercise programs
"Behind the Scenes" Opportunities
In addition to providing crucial support for patient care, volunteers may choose to perform other tasks vital to day-to-day operations at Sitrin. 

Options include:
Gardening and landscaping
Clerical work
Assisting with the popcorn, root beer float, and ice cream carts
Seasonal decorating


---
Get Started
To start your volunteer experience at Sitrin: