Wellness & Aquatic Center
A Better Way To Living Well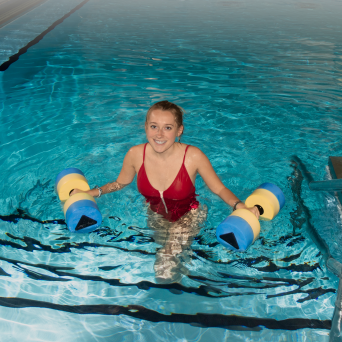 Call us today at (315) 737-2451                         Login/Register
The Wellness & Aquatic Center at Sitrin is open year-round to the community. Our objective is to assist you in reaching and maintaining your fitness goals. Whether you are already active, just starting a workout regimen, or recovering from an injury or surgery, we want to help improve your overall health and wellness.
We provide opportunities for exercising both on land and in the water. Our state-of-the-art fitness center offers equipment for a great cardiovascular workout, weight lifting, and aerobic exercises.
Our inground heated therapy pools provide a rejuvenating environment for lessening joint and muscle pain, while increasing endurance and strength.
To become a Wellness member, download our Wellness Center app here or to enroll from a desktop, register here.
Gym Hours
Monday, Tuesday, Wednesday, Thursday
7:00 a.m. to 12:00 noon
1:00 p.m. to 7:00 p.m.
Friday
7:00 a.m. to 12:00 noon
1:00 p.m. to 4:00 p.m.
Saturday
Pool Hours
Monday, Wednesday
7:00 a.m. to 12:00 noon
2:00 p.m. to 3:00 p.m.
Tuesday, Thursday
Friday
Saturday
Gym and pool are closed New Year's Day, Memorial Day, Fourth of July, Labor Day, Thanksgiving, Christmas Eve, Christmas Day and New Year's Eve.
---
Learn More About Sitrin's Wellness Program
Call us today at (315) 737-2451                         Login/Register