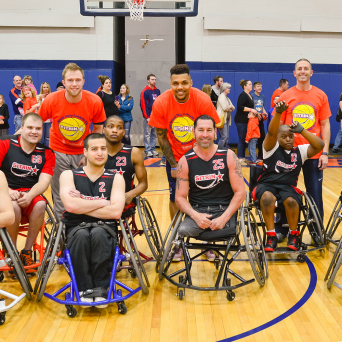 Call us today at (315) 737-2459
Those who have participated in Sitrin's STARS Program have accomplished a great deal in the course of its brief history.
Championships
STARS athletes have competed in nearly every World Wheelchair Curling Championship since 2005 to the present.
Awards and Achievements
Team USA (comprised of STARS athletes) won the gold medal at the 2006, 2008, 2009, 2010, 2015, and 2016 U.S. Open International Wheelchair Curling Bonspiels.

In 2020, Sitrin was officially certified as a Chapter of Move United, a national leader in adaptive sports programs and resources. From 2009-2020, Sitrin was recognized by the United States Olympic & Paralympic Committee as a Paralympic Sport Club.

Sitrin STARS Director, Marc DePerno, was awarded the O.C. Tanner Inspiration Award, which honors individuals who worked behind the scenes to provide encouragement for Team USA at the 2010 Olympic and Paralympic Games in Vancouver, B.C.
The U.S. Paralympic team, which has been comprised of STARS athletes, 

has competed at the 2006, 2010, 2014, and 2018 Paralympic Winter Games.

Hermin Garic won the 2014 and 2015 Miami Marathon as well as the 2018 and 2019 Medtronic Twin Cities Marathon.

Tammy Delano was selected to the U.S. Paralympic Shooting Team and will compete in the 2016 Paralympic Games in Rio de Janeiro, Brazil.

Tammy Delano won gold at the 2014 and 2015 IPC Shooting World Cup.

Jason Robinson became the first wheelchair athlete to participate in the NYSPHSAA Track and Field Championship.
Jason Robinson was named the 2017 SPORTS 'N SPOKES Junior Athlete of the Year.
Jason Robinson was named 2018 and 2019 U.S. Paralympic Track & Field High School All-American.
Jimmy Joseph was the 2019 recipient of the USA Curling Lifetime Achievement Award.
Kevin Burnside, Jr. won bronze in the 2019 US sit ski national 800m sprint as well as gold in the 2.5k pursuit at the 2019 Empire State Winter Games and gold in the 6k and biathlon sprint at the 2020 Empire State Winter Games.
---
Learn More About Sitrin's STARS (Success Through Adaptive Recreation and Sports) Program
Call us today at (315) 737-2459