Wellness & Aquatic Center
A Better Way To Living Well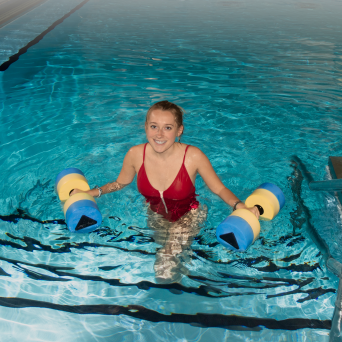 Call us today at (315) 797-8000
If you want to improve your overall health and wellness, or are recovering from an illness or injury, the Wellness & Aquatic Center at Sitrin is uniquely designed to help you reach your health, fitness, and recovery goals.
POOLS NOW OPEN!
Utilizing the excellent resources of the Wellness & Aquatic Center at Sitrin, we offer a variety of fitness classes for adults and children at varying difficulty levels.
Difficulty Level Guide:
1/4:  Gentle movements & stretching
2/4:  Moderate intensity
3/4:  Challenging
4/4:  Maximum effort
AQUATIC CLASSES
Aqua Yoga: Stretch, twist and calm your mind in our heated water with Aqua Yoga. This class is made to expand major muscle groups by using both common yoga and modified yoga poses in an aquatic environment. Water serenity - Sitrin style! 1/4
Ai Chi: This aquatic class uses slow, purposeful movements to increase flexibility, balance, and strength. Ai Chi can be especially beneficial for those with Parkinson's disease, multiple sclerosis, fibromyalgia, arthritis and chronic pain. 1/4
Arthritis Class: This specialty class combines slow, relaxed movement exercises with the benefit of warm water. It is specifically designed to improve movement, relieve pain, and increase strength without placing added stress on arthritic joints. 1/4
Aqua Pilates: We're taking the Pilates studio and putting it in our heated pools. In this innovative workout, you can do moves that are usually only seen on Wunda chairs and Pilates mats. Learn a new routine using common aquatic items, including pool noodles and hand floats. 2/4
8-Pack: This unique class brings something new each week of the 8-week session. Start with pool noodles and hand weights and work your way up to more innovative equipment! We'll keep it fresh by introducing different pool objects and workouts each week. 2/4
Cardio Splash: Burn calories and increase lean muscle mass! Designed to relieve stress and improve cardiovascular endurance, this aquatic class will help boost your health by getting the blood pumping. Non-marking pool shoes are advisable for maximum performance. 3/4
Hydro Aerobics: Fun for all ages, this aquatic class balances stretching with cardiovascular exercise, while you move to energetic workout music. The gravity-free environment of the pool allows for lessened joint impact and increased water resistance. 3/4
Sitrin Spin and Splash: Take spin class to the water! This advanced aqua cycling class will give you a full body workout that is both challenging and therapeutic. Using pool bikes, your body will gain all of the benefits of aquatic resistance training, while also experiencing the healing properties of heated water. *Water shoes are necessary for this class. 4/4
Aqua Tabata: This high-energy, fast-paced class is designed for maximum effort. Tabata has become a recognized training style in the fitness world. Now we have brought it to the pools. Powerful movements and energetic music will bring your aqua workout to the next level. 4/4
Aqua Kick: Standard kickboxing class is old news – it's time to try it in the water! Utilizing specialized equipment and a flurry of kicks and punches, the Sitrin Aquatic Team brings something new to the Mohawk Valley. Kick, punch, and elbow your way to a great workout. 4/4
*Aqua Tots: This one is for the infants and toddlers. Together with an adult, children will get accustomed with the water. The class focuses on improving social interaction and pool playtime, while also getting aquatic exercise.
*Kid Aqua: Slightly older and slightly more adventurous, this class is designed to start where Aqua Tots stops. Customized for children five to eight years of age, the class offers recreation based on the age group, including shooting hoops, volleyball, and similar aquatic activities.
*Please note: Sitrin's Wellness classes take place in heated therapy pools. We do not offer swimming lessons.
Aquatic Class Pricing:
8-week session of any adult class (16 classes - 2 days/week): $80 per 8-week session
8-week session of Aqua Tots and Kid Aqua (8 classes – 1 day/week): $40 per 8-week session
Saturday classes are first come, first served (1 day/week): $5 per class
Wellness members receive half off classes with three months prepaid Wellness 
WELLNESS PROGRAM
Membership for Sitrin's Wellness Program is open to the community. Individuals must be 13 years of age or older to join.
Gym Hours
Monday, Tuesday, Wednesday, Thursday
8:00 a.m. to 12:00 noon
1:00 p.m. to 8:00 p.m.
Friday
8:00 a.m. to 12:00 noon
1:00 p.m. to 4:30 p.m.
Saturday
Sunday
Pool Hours
We are excited to announce renovations to our aquatic therapy pools and look forward to new wellness programming in the new year! Pools open in March.
Tuesday & Thursday
8:00 a.m. to 12:00 noon
1:00 p.m. to 8:00 p.m.
Wednesday
8:00 a.m. to 12:00 noon
1:00 p.m. to 4:00 p.m.
Saturday
Gym and pool are closed New Year's Day, Memorial Day, Independence Day, Labor Day, Thanksgiving, Christmas Eve, Christmas Day, and New Year's Eve.
Monthly Wellness Program Pricing:
Individual: $40 per month
Family of two: $60 per month
Family of three: $80 per month
Family of four: $100 per month*
*Family plan cannot exceed more than four people, and individuals must be 13 years of age or older. 
Payment is due on the first of each month. Checks can be mailed to:
Sitrin Medical Rehabilitation Center
Attention: WELLNESSP.O. Box 1000New Hartford, NY 13413-1000
Sign up for one year, and receive one month FREE!
---
Learn More About Sitrin's Wellness Program
Call us today at (315) 797-8000