\

Sitrin Cuts Ribbon on New Cabin for Veterans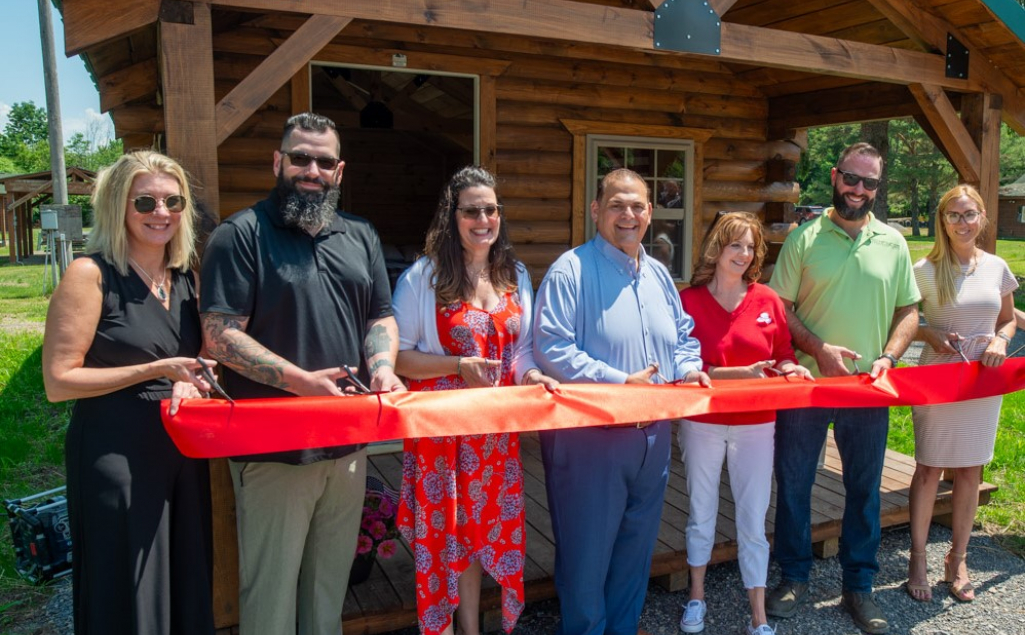 June 21, 2023
Sitrin Cuts Ribbon on New Cabin for Veterans
First Cabin for Veterans at Sitrin Campground in Frankfort
New Hartford, N.Y. (June 21, 2023) – Sitrin has added a brand-new feature to its beautiful campground. 
Sitrin administration, local dignitaries and veterans cut the ribbon on its first cabin today at the campground. The funding for this cabin was provided through a generous grant from the State Farm Neighborhood Assist program. 
At the ceremony, Jackie Warmuth, vice president of clinical development and director of the military program, made a special announcement. 
"We are beyond grateful to announce that funding has been secured for a second cabin. Thanks to very generous donations from the Bank of America and the Wesley and Marion Small Fund of the Community Foundation of Herkimer & Oneida Counties Inc., we have ordered a second cabin which should be here in late summer," Warmuth said. 
Cutting the ribbon were: Christa Serafin, president and CEO of Sitrin; Nic Phelps, TSgt. USAF Retired; Warmuth; Rocco Arcuri Sr., president and CEO of Adirondack Bank; Christine Jarvis, State Farm Insurance agent; Vincent Dier, U.S. Marine Sergeant; and Elizabeth Pole, vice president, Central New York Market Executive at Bank of America.

Sitrin's Military Program works with veterans to heal all their injuries – those you can see, and those you cannot. The opening of Sitrin's first cabin on its beautiful, natural 142-acre campground marks a huge milestone in efforts to heal many of these veterans. The cabin fulfills a previously unmet request made by many veterans – some of whom still suffer from combat injuries - who wish to have a place to camp comfortably and privately with their families. 
Research has shown that ecotherapy – being out in nature – has many healing properties, particularly for those who suffer from PTSD. 
Camp Sitrin is located at 2751 Graffenburg Road in the Town of Frankfort. It offers a 10-acre lake, nature trails, playing fields and pavilions. It also has a handicapped-accessible bathroom with showers, thanks to the generosity of The Community Foundation of Herkimer & Oneida Counties, Inc. The campground is the site of Sitrin's annual Warrior Retreat, attended by more than 100 veterans and their families. 
Marc DePerno, vice president of the Foundation and Communications, said Sitrin's Military Program provides therapies to veterans free of charge, with no third-party reimbursement. 
"The program operates thanks to the generosity of our community, through fundraisers and grants," DePerno said.  
For more information about Sitrin's Military Program, contact Warmuth at (315) 737-2435 or jwarmuth@sitrin.com.