\

Boonville Bike-Run-Walk Event Raises Funds for Sitrin Military Program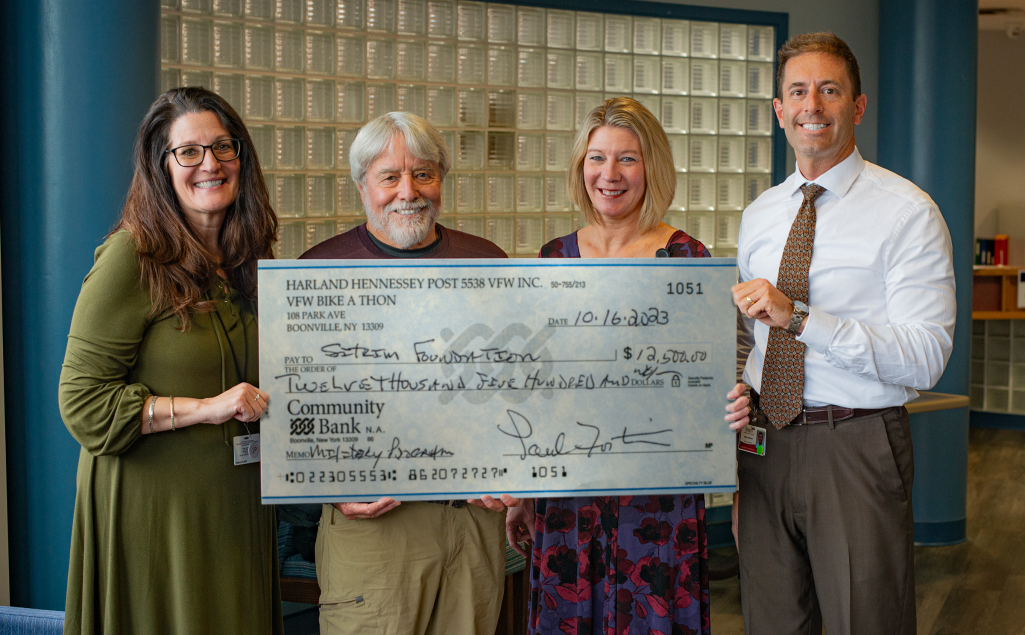 October 16, 2023
Boonville Bike-Run-Walk Event Raises Funds for Sitrin Military Program
NEW HARTFORD - Special thanks to Vietnam Veteran Paul Fortin and the Harland J. Hennessey VFW Post 5538 for hosting the Stars & Stripes Bike-Run-Walk event!
In the past, the event was a bike-a-thon, but this year run and walk components were added. Funds raised almost doubled what was raised last year! The event supports local veteran care through the Sitrin Military Program. Also, thank you to Presenting Sponsor and Veteran Eric Martin, owner/president of the Lodging Kit Company, and additional sponsors: WB Payne Insurance Agency, Boonville, NY Lions Club, Boonville Area Chamber of Commerce, Dick's Wheel Shop, Charlie's Liquor, and Tall Pines - A division of Gates-Cole Insurance.
Fortin presented a check for $12,500 to Christa Serafin, Sitrin president and CEO; Jackie Warmuth, vice president of Clinical Development and director of the Military Program; and Marc DePerno, vice president of the Foundation and Communications.
Sitrin's military program provides comprehensive, complimentary care to post-9/11 veterans and service members.
Thank you to everyone who supported this event!