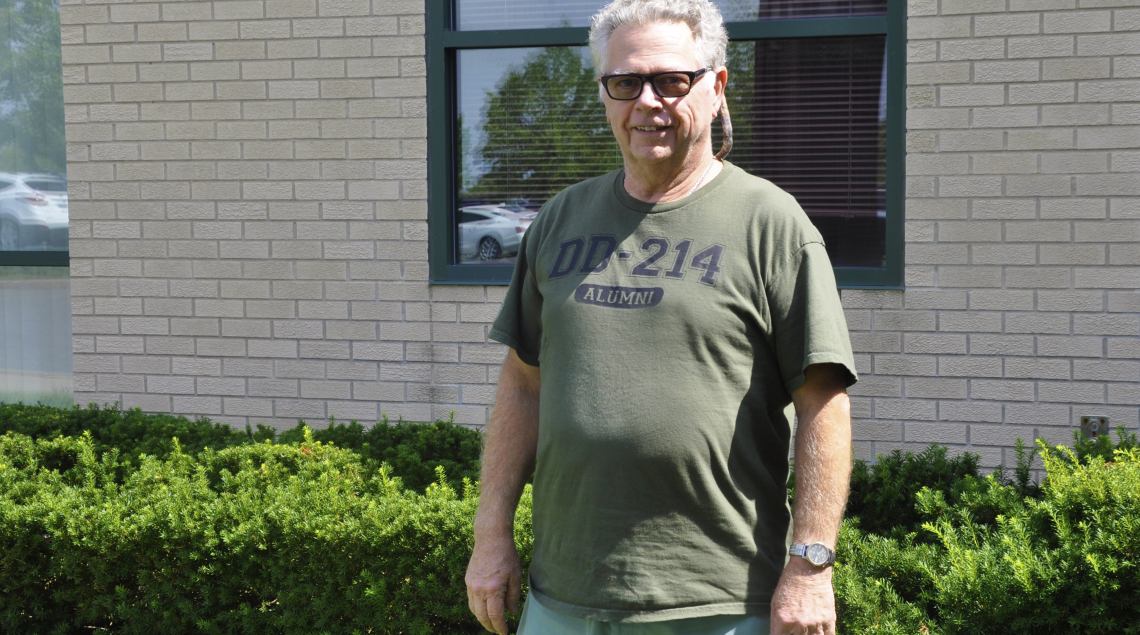 This week, we had the pleasure of meeting Jeffrey Keller, a local Herkimer resident and former Staff Sergeant for the United States Air Force. We discovered Keller through Facebook, where he started a campaign to raise money for Sitrin's Military Rehabilitation Program. We reached out to him to thank him for his support, and invited him to Sitrin to learn more about how he became associated with the program. 
When first sitting down with Keller, we immediately noticed his shirt - an army green-colored solid with the term "DD-214 Alumni" spelled out on the front and a grey waving flag on the right sleeve. He explained that that "DD" meant "Department of Defense" and "DD-214" were the discharge papers one receives after serving time in the military. It quickly became clear that Keller was a proud alumni of the United States military, happy to have served his country.
"What the general public doesn't understand is that anybody can sign their name and say 'yes I want to do this,' but have you really thought about what that entails... have you really thought about what the ultimate is," asks Keller. "You are potentially making the ultimate sacrifice for your country."
Growing up downstate, in Peekskill, New York, Keller recalls his first exposure to the military during his teenage years.
"I can still remember I was working at the Grand Union [grocery store] and the postman was a veteran. We had a 'Lights on to Support Vietnam' movement and he was driving the postal truck around with the lights on," explains Keller. "I heard someone shout 'hey your lights are on,' and the postman said 'and they're going to stay on - you want yours out?'"
Keller laughingly, yet fondly remembers this no holds barred retort. He was inspired by the dedication and honor the veteran had, and decided himself to join the military a few years later.
Self-described as someone who generally shies away from the limelight, Keller was modest about his accomplishments. As a Vietnam-era veteran, he spent time in Thailand during the war. Although he wasn't directly involved in combat, he worked on many of the military aircrafts, such as F-4s, as an Avionics Technician. He was deployed there for a three-month stint, before being flown home to go to school, and then returning to spend a year in Thailand.
Keller now works in the Central Valley school system, driving children from the town of Mohawk to the community schools. He is happily married to his wife, Bonnie, and the two have four children together. It was through his only daughter, Holly Flike, that he first learned about Sitrin's Military Rehabilitation Program. 
Flike invited her parents to her graduation ceremony from Leadership Mohawk Valley (LMV). The LMV group had spent much of the year building teamwork and leadership skills, as well as developing a community project. Unbeknownst to Keller, his daughter was part of the health team, which had selected Sitrin's Military Rehabilitation Program as the focus of their project.
To present the project, the team created a video of a local veteran sharing his personal military story. He spoke in detail about the loss of military peers, combat-related struggles, issues with reintegration, and family challenges, which had led him to developing post-traumatic stress disorder (PTSD) and making a failed suicide attempt.
Throughout the video, Keller not only discovered the veteran's story, but also how Sitrin's Military Rehabilitation Program had helped him to become a stronger person both mentally and physically. Emotionally impacted by the veteran's story and intrigued by Sitrin's blend of therapies, he describes the video as "a tearjerker."
"There are a lot of branches of the service where 'you have to be a man, and men don't cry and men don't feel pain'," explains Keller. "Well if you're a man, then you're a human being and you do cry and you do feel pain. I feel that you should do it amongst your friends, so that they can help you and you can talk about it."
This thought stayed in his mind during the LMV video presentation and for months after.
When Keller's birthday rolled around in July, Facebook reached out to let him know that they would donate $5 to his favorite charity in honor of his birthday. Remembering the presentation and the impact it had made on him, he selected Sitrin's Military Rehabilitation Program as the recipient. Wanting to take it one step further, he also launched his own campaign to raise money for the program, collecting donations from family and Facebook friends.
"Our region is repressed, so you understand what it is like, and if you have a few extra bucks you're going to give it to your neighbor in need," says Keller. 
Keller's kindness has since surpassed monetary donations. His wife, Bonnie, works as an intake employee for Herkimer County Mental Health. She has also taken an interest in Sitrin's program and has connected with Sitrin to gain all of the information she can, so that she can direct veterans in need of care.
The Keller family has also expressed interest in Sitrin's Stars & Stripes Run~Walk. Keller's daughter has already raised funds through her personal Facebook page, and members of the Keller family are planning to walk in the event this fall.
Keller is just one small example of the large impact this community can make on veterans in need. We at Sitrin would like to deeply thank him for his service and for his continued generosity.