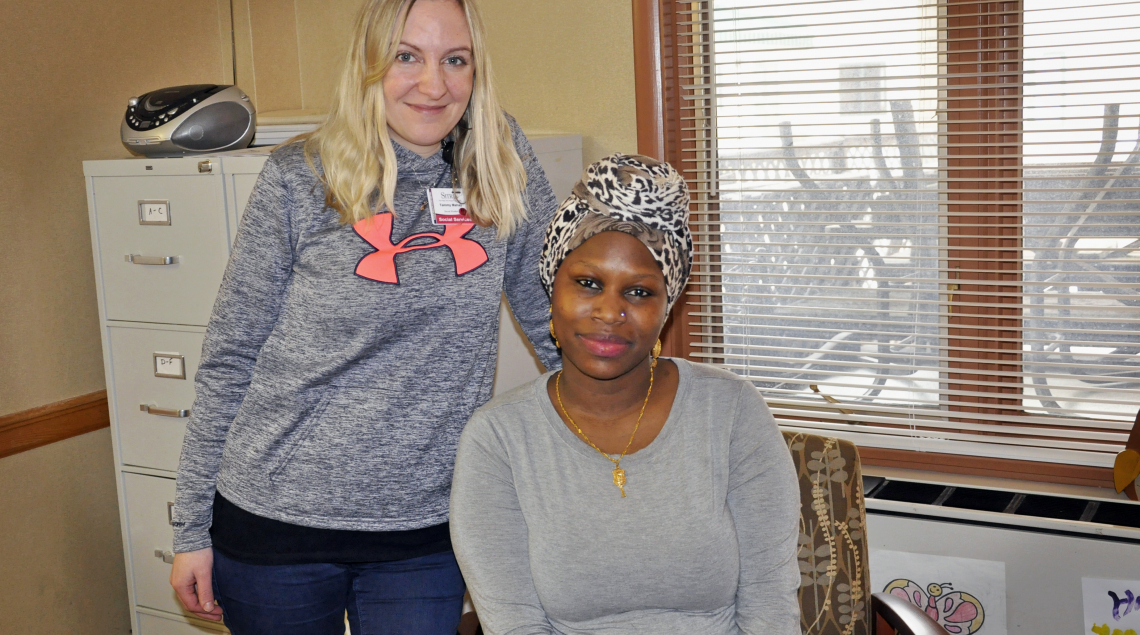 Rahma Jibri was born in Marafa, Kenya and raised in Kakuma, a refugee camp, until she was nine years old. Born one of twelve children, her parents had experienced many hardships and wars initially being from Somalia. Wanting a new life for themselves, the family moved to the United States in 2004. 
At first, Rahma had difficulty fitting in, as she was criticized for being and looking different than her classmates. As time went on, she met many great teachers who helped her get through it. Additionally, her parents always impressed upon her the importance of education, and encouraged her to stay on track. 
"My parents were not able to get an education," Rahma said. "My father always told me, 'if you have that motivation, no one can stop you.'"
At Proctor High School in Utica, she attended BOCES for early childhood education. In 2013, while still in high school, she got married to a young man she had been engaged to since the 8th grade. Later, while finishing out her senior year, she also became pregnant with her first child.
While other high school students were worrying about balancing school, sports, and fun, Rahma focused on not falling behind in her studies, while also building a family. She persisted, passing her regents examinations and graduating on time. A few months after graduation, her first child, Abukar, was born.
After graduation, she relocated to Rochester where her husband lived, and began classes at Monroe Community College shortly after the birth of her baby. It was challenging being 19 years old, attending college, being married, and raising a newborn. However, Rahma persevered. She rode the bus to school each day, as she didn't have a car, and studied hard to excel in her major of Human Services.
In 2016, while still enrolled in college, she gave her birth to her second child, a daughter named Arfon. To help her husband pay the bills, she also took on a part-time job in retail and a per diem role as a care attendant at a local hospital, while continuously attending school and raising a family.
Finding child care was difficult, as her and her husband did not have close family in the Rochester area. Rahma wanted to relocate back to Utica, where most of her family still lived, in order to help with the children. Her husband disagreed, and decided to stay back while she and the children moved to Utica, though he did visit from time to time. Back at home, she attended Mohawk Valley Community College, continuing her studies. She also became pregnant with her third child during the spring semester.
As issues arose in her marriage, Rahma and her husband decided to permanently separate and ultimately divorce. A few months afterward, she gave birth to their third baby, Hamza.
At this time, Rahma also began work as an Resident Service Aide (RSA) at the Sitrin Health Care Center. There, she worked in the kitchen of the long-term care homes, preparing meals for senior residents and maintaining the kitchen.
She also began classes to become a Certified Nurse Assistant (CNA) that next year, wanting to advance in her work. After completing her certification, she took on a role as a CNA at Sitrin, while also pursuing another degree and taking care of her children.
In school, she achieved good grades, ultimately making the President's List and the Vice President's List. She also met a man and fell in love. Though the two had a large age gap, they had a lot of commonalities and treated each other well. It wasn't long before they were married, and Rahma became pregnant with her fourth child.
Today, at only 25 years of age, Rahma continues her work as a float CNA at Sitrin on the 3pm to 11pm shift. Amazingly, she also attends college, working toward a degree in Social Work, and continues to raise her ever-growing family, while never losing focus on her goals.
"I've always had a passion for helping people and making a difference," Rahma explained. "And I was always determined to get my education."
Her three children have also each grown into their own personalities. Abukar, the eldest, is now in Kindergarten, and loves video games and time spent with family. His sister, Arfon, is turning four this year, and is spirited, cheerful, and loving. At two years old, their little brother, Hamza, makes the most toddler trouble, but is also very affectionate and helpful.
In addition to being employed at Sitrin, Rahma has also taken an internship in the Social Services Department. Three days per week, she shadows Sitrin's Social Workers. She interviews long-term care residents, assisting with cognitive and mood assessments. She observes family and planning meetings. She helps to maintain critical chart information, tracking important forms and files. She also studies the Social Workers as they enter patient information into computer software, to gain an understanding of psychotropic medications and other care details.
At Sitrin, Rahma finds the hands-on learning valuable for her future in helping people. The internship has also provided her with the opportunity to figure out the type of environment she wants to work in after graduation.
"People ask how I do it, and you have to be resilient," Rahma said. "We are women, there is nothing we can't do."
This May, Rahma will graduate with an Associate Degree in Social Work and will continue on for her Bachelor's Degree. Soon after, she will also give birth to her fourth child, proving that anything can be achieved when you have motivation and passion.